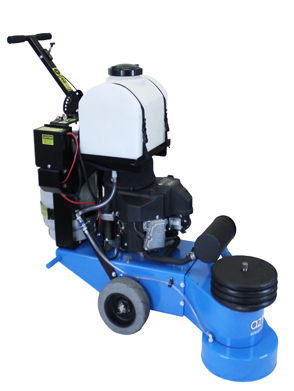 The UltraEdge
Propane Powered Concrete and Terrazzo Grinding & Edging
The UltraEdge professional concrete grinder and polisher is aggressive gear driven and eliminates cords and generators.
• Reaches 3″ (7.6 cm) Under a 5.25″ (13.3 cm) High Shelf
• Grinds and Polishes within 1/4″ (.6 cm) of Walls
• Swiveling Multi-Positional Handle
• Quick Change Plate System, Interchangeable with UltraGrind
• Optional Magnetic Attachment System
• Uses Custom or Standard Abrasives
• Steel Body Construction
• Removable Panel for Easy Cleaning
The UltraEdge is part of the Aztec WorkSmartTM Concrete System for cordless grinding, honing and polishing concrete and terrazzo floors.
LOWEST EMISSIONS IN THE INDUSTRY for 10+ years. All equipment and engine conversions are proudly made in the USA. 
PurepowerLPG 600 Series engine with battery key start
Green certifications: EPA, CARB, LEED, CE
US green building council LEED IEQ credit 3.4 requirements
Optional engine meeting Blue Sky standards
The Aztec UltraEdge machine has one (1) head; each head holds four (4) diamonds; a complete set requires a set of four (4) diamond pucks. Starter and specialty packages are available for chemicals, diamonds, propane vacuums and hand grinders.
Diamonds are sold individually. Recommended 3″ diamond pucks for the UltraEdge: 
Resin Bond Diamonds: 50-, 100-, 200-, 400-, 800-, 1500- and 3000-grit
Metal Bond Diamonds (10Seg): 30-, 50- and 100-grit
Hybrid DT Diamonds: 16-, 30- and 50-grit (Metal Bond Resin Hybrid 3″ Diamonds)
The UltraEdge comes with four (4) Velcro(R) adapter plates for resin bond diamonds and hybrid diamonds.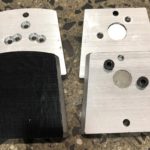 The UltraEdge comes with four (4) of the 3-hole magnetic adapter plates for metal bond diamonds.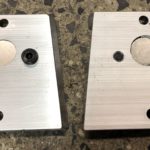 All of Aztec's machines are PROUDLY MADE IN THE USA
See us on YouTube!
Download the equipment manual:

Download the brochure:

Download our complete equipment catalog:

Additional information
| | |
| --- | --- |
| Standard Features | Reaches 3" under a 5¼" high shelf Grinds and Polishes within ¼" of walls Swiveling Multi-Positional Handle Powered by EPA/Carb Certified Kawasaki 603cc Engine Quick Change Plate System, Interchangeable with UltraGrind Optional Magnetic Attachment System Uses Custom or Standard Abrasives Steel Body Construction Removable Panel for Easy Cleaning Engine Warranty – 2 years Machine Warranty – 1 year |