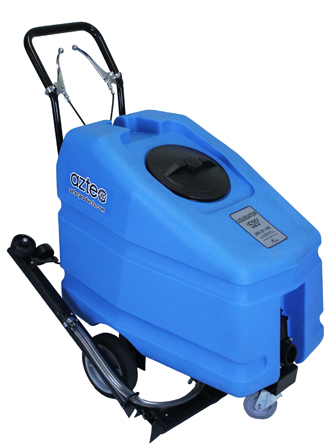 Liquidator
Floor Stripping Solution Applicator
Now you can apply up to 50,000 square feet of solution in less than one hour. The Liquidator has a 36 gallon solution capacity, along with an adjustable applicator brush to accommodate obstacles and narrow aisles. You'll quickly realize the benefit of using the Liquidator as part of your floor maintenance solution.
The Liquidator is a key component of the Sidewinder "Stripping System"
Fast — Applies over 50,000 Sq. feet of solution in less than one hour
Adaptable — Adjustable applicator brush adjusts from 26″ up to 52″
Dependable — No motor, No batteries or electric cords to worry about
Portable — Small compact size with a dry weight of 90 lbs. makes it easy to maneuver
See us on YouTube!
The Liquidator is a key component of the Sidewinder WorkSmartTM stripping system. Only the Liquidator can lay
down strip solution fast enough to stay ahead of the Sidewinder stripper. Don't work hard, work fast and smart
with the Aztec WorkSmartTM stripping system.
• Rugged solid steel frame
• Nylon ball bearings throughout entire driver system
• User-friendly, quiet with smooth operating features
• Easy access for cleaning through 8" lid opening
• Corrosion proof polyethylene tank
Download the machine manual:

Download the Brochure: