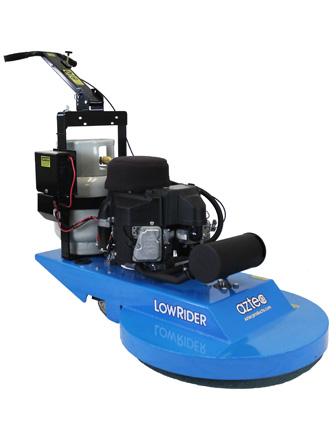 The LowRider
Propane Floor Maintenance
The aggressively priced LowRider burnisher has a rugged, solid steel body design with an ultra low 4″ (10cm) profile for buffing and polishing under racks and hard to reach areas.
The LowRider will burnish floors at up to 33,000 sqft/hr (3065 m2hr) and includes an advanced composite polymer pad driver and dust control upgrade, and is available in 21" (54cm), 24″ (61cm) and 27″ (68cm) pad sizes.
Optional Dust Control and Spray Mist Upgrades Available


Dust Control Upgrade (pictured below) – underside vacuum system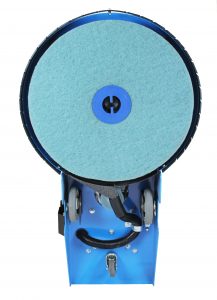 NEW Spray Mist Upgrade (pictured below)
The LowRider Spray Mist burnisher is for use on vinyl composite tile (VCT) and polished concrete floors. The LowRider Spray Mist system can be used for spray cleaning with a cleaner/maintainer chemical or for concrete restoration with a concrete restorer solution.
Advantages of using the Spray Mist system with the Aztec LowRider include (1) less chemical usage for cleaning and maintaining hard floors, (2) longer time between VCT stripping and concrete sealing cycles, and (3) longer hard floor life. The Spray Mist System also offers time and labor savings while removing ground in dirt, scuffs and minor scratches in performing daily and weekly maintenance.
Call 1-800-331-1423 or (215) 393-4700 for more information on the LowRider burnisher and all upgrade options!
Unique patent-pending vacuum system improves indoor air quality (IAQ) by containing air particulates. Meets GS-42 and US green building council LEED IEQ credit 3.4 requirements.
Green Certifications: EPA, CARB, LEED,CE, GS-42
LOWEST EMISSIONS IN THE INDUSTRY for 7 out of the last 8 years. All equipment and engine conversions are proudly made in the USA, with CE, EPA, CARB, LEED and GS-42 certifications.  Optional engine meeting Blue Sky standards.
Powered by the Purepower by Aztec propane 600 Series engine. US green building council LEED IEQ credit 3.4 requirements.
All of Aztec's machines are PROUDLY MADE IN THE USA
See us on YouTube!
Download our machine Owner's Manual:

Download our Brochure:

Download our complete equipment catalog:

Additional information
| | |
| --- | --- |
| Models | 21″ Propane Burnisher 24″ Propane Burnisher 27″ Propane Burnisher |
| Standard Features | Ultra Low Profile: 3 ¾" for Burnishing Hard to Reach Areas Rugged, Patented Solid Steel Body Powered by certified 18HP 603cc Kawasaki Engine with Low Oil Shut Down and Safety |
| Regulator Fuel System | Premium Catalytic Muffler for Ultra Low CARB and EPA Emissions 12 Volt Battery Key Start Adjustable Comfort Handle with Click-n-Lock Throttle Cable Advanced Polymer Composite Pad Driver Adjustable Back Wheels for Controlled Pad Pressure Patented Airtight Floating Dust Skirt* Meets US Green Building Council LEED IEQ |
| Credit Requirement | Compliant CE, CARB, EPA & GS-42 Low Oil Shutdown Safety Regulator Fuel System Hand Release Pad Lock |
| Available Options | Auto Emissions Shut Down Blue Sky Certified Engine Centrifugal Clutch Dust Control Upgrade Electric Clutch Kill Switch Lanyard |